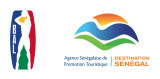 Source: Basketball Africa League (BAL) |
Destination Senegal and Air Senegal Join Basketball Africa League as Official Partners
Destination Senegal Named Host Partner of the BAL's Sahara Conference Group Phase Underway Now at the Dakar Arena
Our partnership with the BAL will help facilitate Senegal's positioning in the Afro-American market, particularly in the tourism sector
DAKAR, Senegal, March 13, 2022/APO Group/ --
The Basketball Africa League (BAL) (www.theBAL.com) and the Agence Sénégalaise de Promotion Touristique (ASPT), Senegal's Tourism Promotion Board, announced a partnership that makes Destination Senegal, the country's marketing and tourism initiative, the Host Partner of the BAL's Sahara Conference group phase underway now at the Dakar Arena and an official partner of the BAL's expanded second season. As part of the partnership, Air Senegal, the country's national carrier, will also serve as an official partner of the BAL.
Destination Senegal is helping create unforgettable experiences for fans attending the BAL games in Dakar, including facilitating visits to landmark sites and locations such as Gorée Island, the Museum of Black Civilizations (Musée des Civilisations Noires) and the African Renaissance Monument. In addition, Air Senegal facilitated travel to Dakar for the six teams playing in the Sahara Conference group phase and select BAL staff.
"By hosting the BAL, Senegal has demonstrated its attractiveness in the organization of events, particularly sporting events," said ASPT CEO Pape Mahawa Diouf. "Our partnership with the BAL will help facilitate Senegal's positioning in the Afro-American market, particularly in the tourism sector. It is an opportunity for Senegal to be part of the top five African destinations in the MICE industry by 2025."
"We are excited to welcome Destination Senegal and Air Senegal as official partners of our expanded second season," said BAL President Amadou Gallo Fall. "The pathway to creating an economic growth engine across Africa is inextricably linked to showcasing our rich and diverse tourism industry. Through this partnership, we are excited to be able to invite fans to see Dakar's most historic sites and look forward to working together to create memorable experiences for fans coming to all three BAL host cities."
Destination Senegal and Air Senegal join the BAL's roster of world-class marketing partners, which include Foundational Partners New Fortress Energy (NFE), Rwanda Development Board (RDB), NIKE, Jordan Brand and Wilson, and official partners Flutterwave and Hennessy.
The 2022 BAL season will feature a total of 38 games taking place in Dakar; Cairo, Egypt; and Kigali, Rwanda over the next three months. The BAL is reaching fans in 215 countries and territories in 14 languages through free-to-air and paid TV broadcast partnerships with Canal+, ESPN, NBA TV, Tencent Sports, TSN, American Forces Network (AFN) and Voice of America (VOA), and livestreaming on the NBA App, NBA.com and NBA.com/BAL.
The 12 BAL teams, which represent 12 African countries and include defending BAL Champion Zamalek (Egypt), have been divided into two conferences – the Sahara Conference and the Nile Conference. Each conference will play a 15-game group phase during which each team will face the five other teams in its conference once. The Sahara Conference group phase tipped off March 5 at the Dakar Arena and will run through March 15, while the Nile Conference group phase will take place at Hassan Mostafa Indoor Sports Complex in Cairo from April 9-19. The top four teams from each conference will qualify for the BAL Playoffs, which will feature a single-elimination tournament and Finals at Kigali Arena from May 21-28.
Basketball Africa League Season 2 Hype Video (https://bit.ly/3pYZfKg) (Credit: BAL)
Distributed by APO Group on behalf of Basketball Africa League (BAL).
Contacts:
Edwin Eselem
BAL Communications
+221 78 615 4287
eeselem@theBAL.com
Assane Ndao
Relations Presse ASPT
+221 77 277 2314
rp@aspt.sn
About Destination Senegal:
The ASPT is the government agency in charge of the Promotion of Destination Senegal. Its mission is to ensure the promotion of tourism through the implementation of initiatives defined by the State, to reinforce the attractiveness of Senegal as a destination and to establish technical and financial partnerships to promote the country as a tourist destination.
About the BAL:
The BAL, a partnership between the International Basketball Federation (FIBA) and the NBA, is a new professional league featuring 12 club teams from across Africa. The BAL, which is headquartered in Dakar, Senegal, builds on the foundation of club competitions FIBA Regional Office Africa has organized in Africa and marks the NBA's first collaboration to operate a league outside North America. Fans can follow the BAL @theBAL on Facebook, Instagram, Twitter and YouTube and register their interest in receiving more information at www.NBA.com/theBAL.